Tyson Wheatley
iReport producer, CNN.com
We're hearing some compelling stories as voters head to the polls across the country today - but few can match the intensity of Los Angeles couple Doug and Tracie Van Doren.
Right now, the two are heading to Cedar Sinai hospital to have their first child. Earlier today, Tracie was standing in line to cast her vote when she started feeling contractions - then her water broke. She didn't want to get out of line, but had no other option.
Doug raced Tracie to her doctor, who confirmed the great news. Tracie asked if she could still vote. Her doctor said she had several hours before she needed to get to the hospital. "She wrote us a doctor's note," said Doug. "This is an important election for us, and we just didn't want to lose our chance to vote."
Back at the polling station, Tracie and Doug handed election officials their note. "They brought us right in and to the front of the line and we both voted right away," Doug said. He snapped a picture as Tracie cast her vote. "We're going to get a new baby and a new president all on the same day."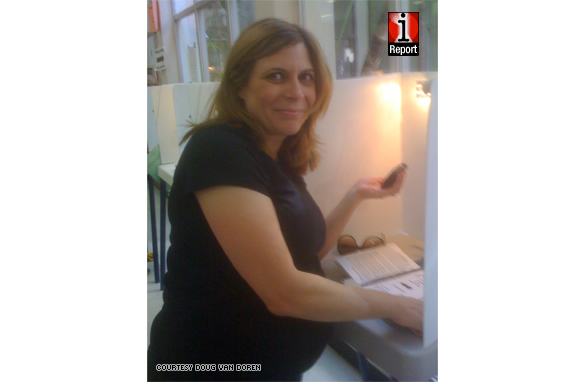 Tracie casting her vote.
See their iReport here.