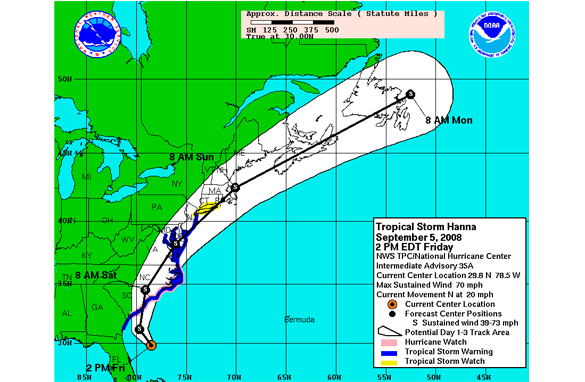 David Mattingly | BIO
AC360° Correspondent

For the last several days I have been hearing Tropical Storm Hanna described as "disorganized" and "poorly shaped". This kind of unflattering talk has apparently made Hanna mad.
This storm is getting it's act together just in time to hit the northern South Carolina coast tonight. I am in Myrtle Beach where we've been told to not be surprised to see Hanna become a hurricane just as it arrives late tonight.
A lesson from the recent past should tell us not to take Tropical Storm Hanna lightly. If predictions are correct and it upgrades to a Cat 1 hurricane before landfall, don't make the mistake of calling it a "minimal" hurricane.
The last time I was reporting live from a Cat 1 Hurricane I was knocked off the air by torrential rains. I remarked later (after we re-established a signal) that it was pouring so hard I would choke on the blowing rain as I tried to breathe.
That happened three years ago in Hollywood, Florida and the storm was called "Katrina". That "minimal" Cat 1 left behind widespread flooding in Florida before moving on to terrorize the Gulf Coast.
Hanna is expected to go north and diminish as it goes up the eastern seaboard. But all hurricanes deserve respect. Here's hoping Hanna remains "just" a tropical storm.