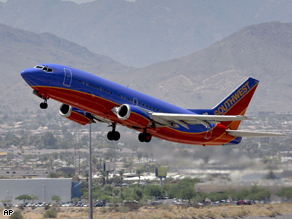 If you've been following the story about Southwest Airlines grounding its planes today, I thought you might like to learn why the folks in congress are actually more upset about the FAA's oversight of Southwest than about Southwest itself.
In a nutshell, The House Transportation and Infrastructure Committee actually found itself doing the FAA's work: oversight of an airline. Two FAA inspectors came to the committee with documents, records and a tale of slack compliance that stunned congressional investigators. What the documents showed was Southwest was allowed to fly planes beyond mandatory deadline inspections because an FAA manager was concerned about Southwest's ability to meet its flight schedule.
That was happening a year ago. Now, we're learning its happening again. Southwest grounded 44 planes last night until it could re-inspect them for cracks. The inspections should have already taken place but apparently, once again, the schedule was allowed to slide.
Here's why the chair of the Transportation Committee, Rep. Jim Oberstar (D) Minnesota is so mad: "The action by Southwest Airlines raises serious questions about where the FAA adequately followed up on the discovery a year ago that Southwest had failed to make required inspections."
Oberstar made those comments while recovering from hip surgery. He expects to be back in Washington DC next month to hold hearings on the FAA. He may have a pain in his side now. But I bet he's about to become a real pain in the backside of the FAA when his committee starts asking how this happened.
– Drew Griffin, CNN Special Investigations Unit Correspondent