Program Note: CNN's award-winning Planet in Peril returns this year to examine the conflict between growing populations and natural resources. Anderson Cooper, Dr. Sanjay Gupta, and Lisa Ling travel to the front lines of this worldwide battle.
Watch Planet In Peril: Battle Lines Thursday 9p ET
We devote several days on the blog to smart insight and commentary related to the special.
___________________________________________________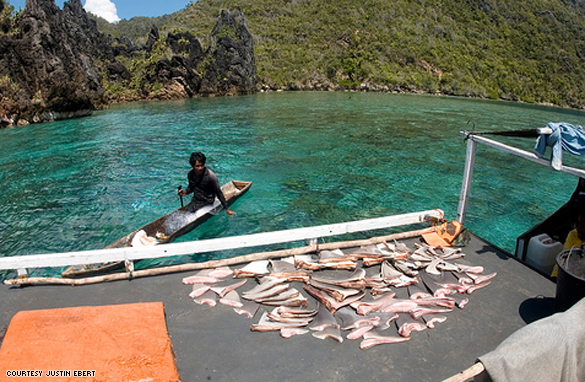 Shawn Heinrichs
Founder & Executive Producer, Blue Sphere Media
I broke the surface having just completed the last day of diving on some of the most incredible reefs I had ever seen. Floating in the deep blue waters, I looked around and surveyed the dozens of forest covered limestone islands that surrounded me.
This was truly one of the most beautiful places on earth. I was filming the reefs in Raja Ampat off the western tip of Papua in Indonesia, one of the most remote and biologically diverse marine ecosystems on the planet.
Cruising back to our camp, we noticed a small fishing boat anchored in a shallow lagoon within the protected area. Curious, we decided to investigate. As we drew near, we made a grizzly discovery. On the blood soaked deck, covered with buzzing flies, were dozens and dozens of shark fins that had recently been sliced off of small reef sharks.
Looking into the water, an odd shape at the bottom caught our attention. Immediately we identified it as the body of a shark. It took all my willpower to control my feelings of anger and frustration. And then I recalled, where sharks should have been abundant on every protected reef, we had not seen sharks the entire week. Now it was clear why. It was also immediately clear what I had to do.
The world needed to see what I was witnessing.