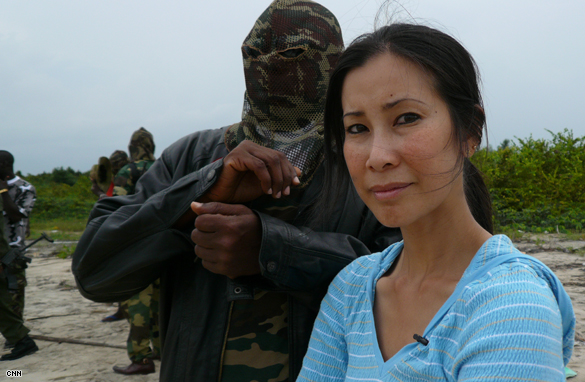 Editor's note: CNN's award-winning Planet in Peril returns this year to examine the conflict between growing populations and natural resources. Anderson Cooper, Dr. Sanjay Gupta, and Lisa Ling travel to the front lines of this worldwide battle. Ling has been a co-host of The View, correspondent for The Oprah Winfrey Show, National Geographic and Channel One. She filed this blog from Nigeria.
Lisa Ling
AC360° Special Correspondent
I'm so upset by what I experienced here today that I can barely think straight.
I'm in the Niger Delta in southern Nigeria, a place essential to the U.S. economy.
The communities along the delta literally live atop a virtual goldmine—black gold that literally make's the world's engines run. Oil. Underneath the surface of the ground here, lies one of the richest sources of crude oil on the planet.
Nigeria is the 5th largest supplier of oil to the United States and is the 12th biggest oil producer in the world. It was discovered here in the 1950's, and big oil companies have been pumping hundreds of billions of dollars worth of oil out of the ground here ever since. Over the years, it's made some people colossally rich. Colossally.
Logic would suggest that the people living above this tremendously lucrative resource would benefit from its riches. But the situation here defies logic. The millions of people who live along the delta are considered some of the world's poorest. There is no electricity and clean water and basic services like medicine and quality education are severely lacking.
How can this be?
FULL POST