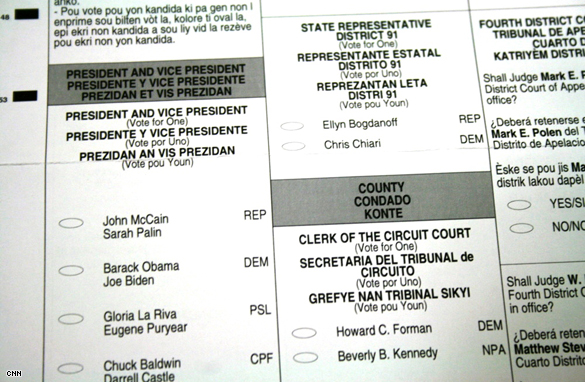 Kim Segal
CNN Supervising Producer
I received my Florida absentee ballot a few days ago. After taking it out of the envelope I was originally intimidated by the length. I thought it would take a while to fill out so I tucked it away in my "things to do" file. I recalled CNN's John Zarrella talking to voters during his three hour wait to early vote. Many of them, were blaming the wait on the size of the ballot.
After speaking with John he said the ballot length wasn't a problem it was the new machines. So today I took a closer look at what was on my four legal-sized page ballot. Three pages have initiatives on both sides. Once I looked at it I realized, of course it looks long since everything is written in three different languages English, French-Creole and Spanish.
John and I live in the Ft. Lauderdale area which is part of a large and diverse county. This means not only do we have our ballot translated into three languages but we also vote on issues regarding our County's Charter. Not every Florida County is governed by their own Charter so not every Floridian has 10 additional issues to vote on. I compared my ballot to the one for the area surrounding our Capital, Tallahassee. That ballot fit on one page front and back. It was written in one language, English. The six Florida Constitutional Amendments fit on half a page, only three translated Amendments fit on one of my ballot pages.
It took John less than ten minutes to vote once he was in the booth, I have a feeling it may take me a bit longer. Not because of the size of the ballot but because I think I will use this opportunity to brush up on my Spanish.