Program Note:
Thirty years ago, more than 900 died by murder and suicide. Only 33 survived. Soledad O'Brien reports on their untold stories.
CNN Presents: 'Escape from Jonestown' Tonight 9 p.m. ET
________________________________________________________________________________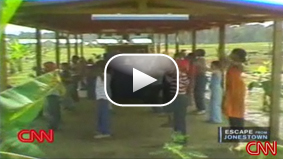 Tim Carter, a trusted aide to Rev. Jim Jones, watched his infant son die at Jonestown. THE FOLLOWING CONTAINS GRAPHIC IMAGES. VIEWER DISCRETION ADVISED.
James Polk
CNN Senior Producer

Thirty years ago, I walked out on the doorstep to pick up the Sunday paper and learned NBC reporter Don Harris, a colleague and friend, had been shot to death on a Guyana air strip.
Like much of the rest of the world, that was the first I'd heard of Jonestown. As an NBC correspondent in those years, I flew to San Francisco to help dig into the background of the Peoples Temple. Soon I became aware it was the children who had been the first to die in Jonestown, and I profiled the unhappy past of one teenager who had been taken there as a welfare ward.
That's what I've always remembered to this day: the children were killed first. To me, it is that unforgivable act which defines the tragedy that was Jonestown.
I'm now a senior documentary producer for CNN, and when I finished a two-hour project in April, "Eyewitness to Murder," on the assassination of Dr. Martin Luther King Jr., my boss came up to me and said this will be the 30th anniversary of the Jonestown suicides.