Program Note: In the fight for freedom and democracy, their weapon is peace. Go inside the world of Buddhism with CNN chief international correspondent Christiane Amanpour. Buddha's Warriors. Saturday & Sunday, 8 and 11 p.m. ET

____________________________________________________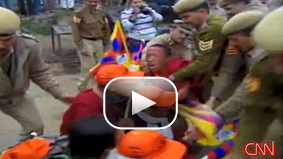 In March, Indian authorities and Tibetan exiles clashed during a protest march against China's rule. CNN's Brian Rokus was there filming 'Buddha's Warriors,' and filed this report.
Brian Rokus
CNN Producer
It's the end of a 25-day trip literally around the world. Work on two different documentaries has taken the crew and me to China, North Korea and South Korea. And now we're on the side of the road in rural northern India enjoying a lovely lunch of chocolate bars and potato chips.
We're marching (and by marching, I mean riding alongside in our van) with 100 Buddhist monks who are trying to march from their home in exile in Dharamsala, India to the border of their native Tibet to protest China's rule there. The monks plan to cover 800 miles over the course of several months. The reality, however, is that nobody expects Indian authorities to let them get that far.
At first, it seems the march might be over before it even really starts. On their first night out of Dharamsala, we get a panicked phone call from the organizers. Come quick, they say, the police are here! So we rush down to the monastery where they're staying expecting to see a dramatic scene of riot police dragging monks into busses. Instead, we find a handful of officers with a pile of paperwork: restraining orders. They're allowed to continue marching, but not past the borders of their home state. The clock begins ticking.
FULL POST