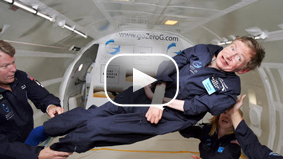 CNN's Becky Anderson holds an exclusive interview with scientist Stephen Hawking on his views of the world.
Becky Anderson | BIO
CNN International anchor
This was one of those moments in any journalist's career when you realize just how lucky you are to do your job. What wouldn't anyone give to get the chance to interview Isaac Newton or Albert Einstein? Professor Stephen Hawking is arguably our generation's most important scientist and this was my Eureka moment.
Aside from the rather vacuous fact that I'd get a chance to get my photo taken with this great man, getting to spend time in the presence of such a brilliant thinker was one of those rare opportunities in life when u sit back and think… wow.
He first achieved international fame with the publication of the scientific bestseller "A Brief History of Time 2 decades ago.
I have to admit that it's not easy to sit down with a man whose only means of communication is a sort of vague blinking of the eye. It's with a slight muscle twitch that he activates his voice synthesizer rigged up to a computer that's pre-loaded with the answers to my submitted questions. He is disabled by a condition that has left him almost completely paralyzed.
It was a humbling experience. And a real learning experience in life for me.