You may recognize 38-year-old Washington Post reporter Jason Rezaian from a recent episode of 'Parts Unknown.' He and his wife,  Yeganeh Salehi, spoke with Anthony Bourdain during his visit to Iran. Bourdain describes Jason as a "voice of reason and understanding," who is "proud of  his Iranian roots."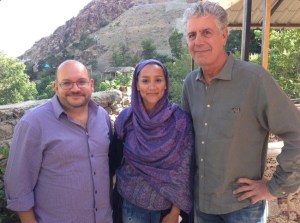 Iranian authorities arrested the couple without charges or a trial. Last month Yeganeh was released, but Jason remains behind bars. Jason's brother Ali says he is in solitary confinement and his health is deteriorating.
Anderson spoke with Anthony Bourdain and Ali. They discussed Jason's ordeal and called for his release.
---
Jason's mother Mary Breme Rezaian recorded an appeal, pleading for her son's freedom.