Erika Brannock took the next step on her road to recovery today. The survivor of the Boston Marathon bombings left the hospital where doctors treated her after the attack.
She was the last patient wounded that day to check out of the hospital. CNN's Randi Kaye was with her for the milestone, and will have her story of survival tonight on AC360.
Erika was with her sister and brother-in-law at the finish line; they were there to cheer for her mother who was running in the race. The blast destroyed part of Erika's left leg and her right leg was broken.
She believes she could have died if not for the compassion and quick thinking of a stranger. All Erika can remember about the hero is that her name is Joan and she said she was from California. Joan tied a belt around Erika's leg to help slow the blood loss.
Do you recognize Joan in this picture taken after the bombings? If so, help Erika find the woman who saved her life by emailing  FindJoan@cnn.com.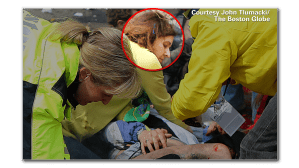 Hear more about Erika's story at 8 and 10 p.m. ET on CNN.
Friends have set up a fund to help Erika cover some of the astronomical medical bills she faces. If you'd like to help, contribute to the Erika Brannock Fund.