Erika Brannock could have died from her severe injuries after the Boston Marathon bombings were it not for a good samaritan. Part of Erika's left leg was blown off in the blast and her right leg was broken. A compassionate stranger, who she recalls having the name Joan, made a tourniquet out of a belt to stop the bleeding.
"I had a conversation in my head with God and I told him I wasn't ready to go," remembers Erika. "It was almost instantaneously ... this woman kind of crawled over to me and she grabbed my hand ... she said 'My name is Joan from California and I'm not going to let you go,' and she stayed with me the whole time."
The preschool teacher has overcome many obstacles in her recovery, including 11 surgeries, as well as the fear of another attack. Every time she was wheeled into the operating room, she had to pass the section of the hospital where bombing suspect Dzhokhar Tsarnaev was being treated. The FBI assured Erika that he would never hurt her again.
Much of her strength since the attack has come from her family and support from her young students in Maryland. Erika has been able to interact with them over videos and her hospital room was decorated with their colorful drawings. She says knowing she's still in their thoughts has helped her tremendously.
Erika is the last marathon bombing survivor to leave the hospital. When she returns home she'll begin the process of learning to walk again using a prosthetic. She calls herself 'one tough cookie' and is ready to face the challenges.
Erika is also determined to find the woman who saved her life. If you recognize "Joan,"  help Erika by emailing  FindJoan@cnn.com.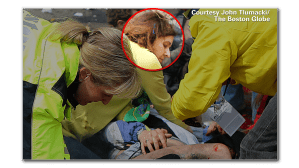 Also, if you'd like to help Erika cover the cost of some of her medical bills, her friends have established the Erika Brannock Fund.