Editor's note: Watch AC360° on Wednesday for the next part of Anderson Cooper's special series "Kids on Race: The Hidden Picture" at 8 and 10 p.m. ET on CNN.
Do you make judgments about other people based on their race, and if so, at what age did you start doing that? Those questions are at the heart of a study we have been working on at AC360° for more than a year.
The question of how people react to someone else's race, consciously or not, has been much discussed since the shooting of Trayvon Martin. Many of the questions surrounding the case center on what George Zimmerman was thinking in those few minutes between first laying eyes on Martin and killing him. Was race a factor, and if so, how? Obviously, there are still many details we do not know about the shooting, but when I first heard about the incident, I thought of the study we've just concluded and are airing this week. What we discovered is that for kids as young as six, perceptions of race definitely make a difference when judging other children.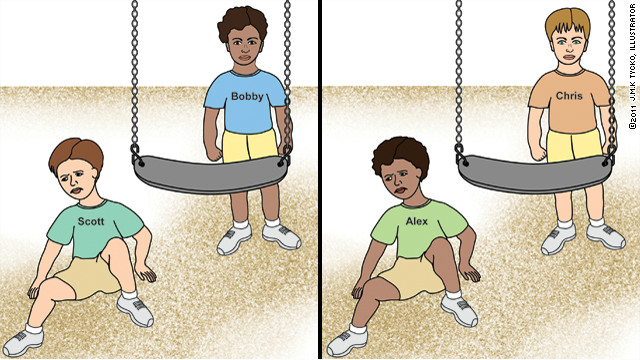 As part of the study, researchers showed African-American and white children these pictures separately and asked questions such as: What's happening here? Are these two children friends? Would their parents like it if they were friends? The pictures are designed to be ambiguous and can be interpreted in a number of ways. For many kids, when the race of the children in the pictures changed, so did their interpretation of what the picture showed.
The expert who designed this study for us said that the findings could indicate a subconscious racial bias that exists in even very young children. As our expert points out, children aren't born into this world judging anyone by the color of their skin. They have to learn it.
The aim of this project was to look at this youngest generation and see how far weve really come as a country. I hope this study helps us all consider how our perceptions of race impact our thoughts and behaviors, and also what messages adults are passing down to children.