Ready for today's Beat 360°? Everyday we post a picture you provide the caption and our staff will join in too. Tune in tonight at 10pm to see if you are our favorite! Here is the 'Beat 360°' pic: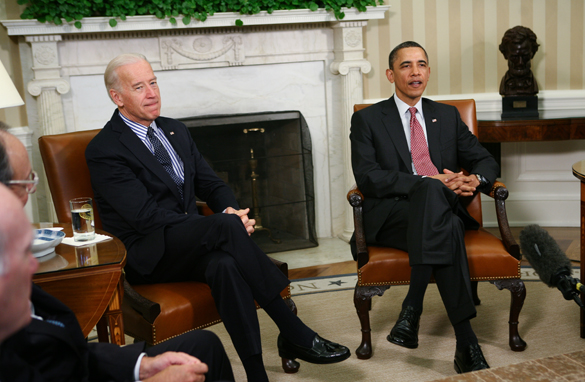 President Barack Obama holds a meeting with Vice President Joe Biden in the Oval Office of the White House April 14, 2011 in Washington, DC. Obama met with Vice President Joe Biden, Secretary of the Treasury Timothy Geithner, and Erskine Bowles and Alan Simpson, the co-chairs of President Obama's National Commission on Fiscal Responsibility and Reform, following a speech Wednesday in which he outlined his plan for deficit and debt reduction. (Photo credit: Gary Fabiano-Pool/Getty Images)
Update: Beat 360° Winners:
Staff
Tom Foreman
"Now, Vice President Biden has graciously agreed to oversee the search for a new FAA official to keep on eye on these snoozy air traffic controllers. Anything you'd like to say, Joe? Joe?"

Viewer
Daniel
"Joe Biden's contribution to the discussion: wearing a shirt that makes an American flag with the president's tie."
___________________________________________________________________________