Ready for today's Beat 360°? Everyday we post a picture you provide the caption and our staff will join in too. Tune in tonight at 10pm to see if you are our favorite! Here is the 'Beat 360°' pic: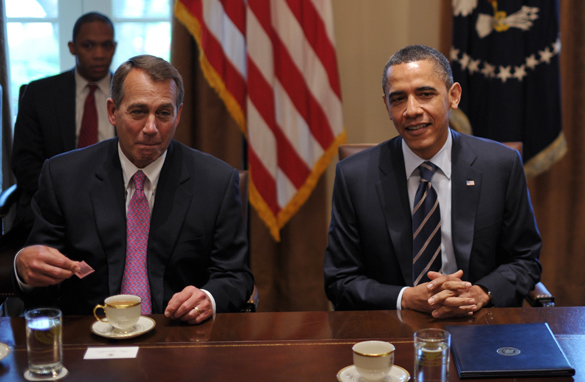 President Barack Obama meets with bipartisan House and Senate leadership on fiscal policy including House Speaker John Boehner, R-OH, April 13, 2011 in the Cabinet Room of the White House in Washington, DC. (Photo credit: MANDEL NGAN/AFP/Getty Images)
Update: Beat 360° Winners:
Staff
Steve Brusk
"By the way, John. It's $12 for the coffee. Sweet and Low's extra."

Viewer
San
"See, we CAN pretend to get along!"
___________________________________________________________________________