Ready for today's Beat 360°? Everyday we post a picture you provide the caption and our staff will join in too. Tune in tonight at 10pm to see if you are our favorite! Here is the 'Beat 360°' pic: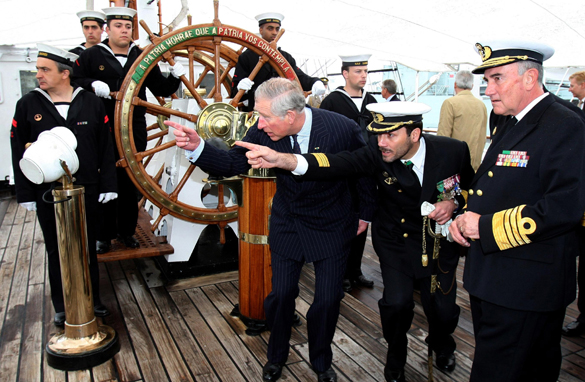 Prince Charles, Prince of Wales, gestures alongside Captain Proencamendes, on board the NRP Sagras, dockside on March 28, 2011 in Lisbon, Portugal. The Prince of Wales and Duchess of Cornwall are in Portugal for a 10-day tour, promoting UK trade. (Photo credit: Chris Radburn/WPA Pool/Getty Images)
Update: Beat 360° Winners:
Staff
Tom Foreman
"No, your majesty, it's the other one. That's Big Ben. You don't get out of the palace much, do you?"

Viewer
Bruce Button
"You're right, Captain, we can see Sarah Palin's house from here!"
___________________________________________________________________________