Ready for today's Beat 360°? Everyday we post a picture you provide the caption and our staff will join in too. Tune in tonight at 10pm to see if you are our favorite! Here is the 'Beat 360°' pic: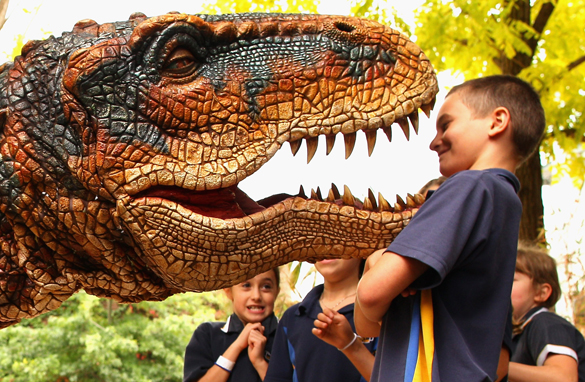 School children meet a life-sized baby Tyrannosaurus Rex during a preview appearance of Walking With Dinosaurs at Bialik College on March 24, 2011 in Melbourne, Australia. Walking With Dinosaurs is a theatrical production that features 15 life-sized dinosaurs, the show will begin its Melbourne Tour at Hisense Arena on May 4. (Photo credit: Mark Dadswell/Getty Images)
Update: Beat 360° Winners:
Staff
Tom Foreman
"And on a lighter note, to dramatize the danger of the soaring national debt, the Congressional Budget Office fed a 7th grader to a velociraptor this afternoon…"

Viewer
Ken, Berkeley, CA
"Australian kids meet 'Qaddafi' and other soon-to-be-extinct Middle Eastern dinosaurs."
___________________________________________________________________________