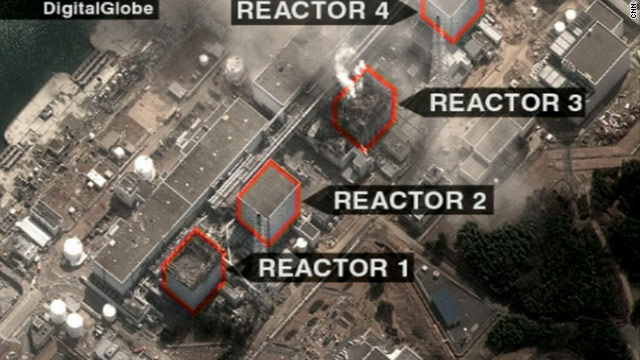 Bryony Jones
For CNN
(CNN) - Authorities in Japan are battling to resolve a series of crises at the nuclear power plant at Fukushima Daiichi, which was badly hit by last Friday's devastating earthquake and tsunami.
Here's a look at efforts to contain the damage and avert a potential nuclear meltdown. (all times and dates are local).
Friday, March 11
2.46 p.m. (0.46 a.m. ET/5.46 a.m. GMT): A magnitude 9.0 earthquake strikes an area 370 kilometers (230 miles) northeast of Tokyo, Japan, at a depth of 24.5 kilometers.
The offshore quake, the fifth largest worldwide since records began, sparks a major tsunami warning across the Pacific. Within an hour a wall of water up to 9 meters (30 feet) high hits the Japanese coast, sweeping away towns and villages in its path.
The quake causes serious damage at Tokyo Electric Power Company's (TEPCO) Fukushima Daiichi nuclear power plant, about 65 kilometers south of Sendai. Three of the plant's six reactors, which came into service between 1970 and 1979, were already shut down for inspection at the time the disaster struck. Those still in operation are designed to also shut down in the event of a quake, with diesel generators pumping water around the reactors to keep them cool.
But when the tsunami hits, flood water swamps the generators, causing them to fail. The reactors begin to heat up.
8.15 p.m.: The Japanese government declares an emergency at Fukushima Daiichi power plant.
10.30 p.m.: Authorities reveal the cooling system at the plant is not working, and admit they are "bracing for the worst."