Ready for today's Beat 360°? Everyday we post a picture you provide the caption and our staff will join in too. Tune in tonight at 10pm to see if you are our favorite! Here is the 'Beat 360°' pic: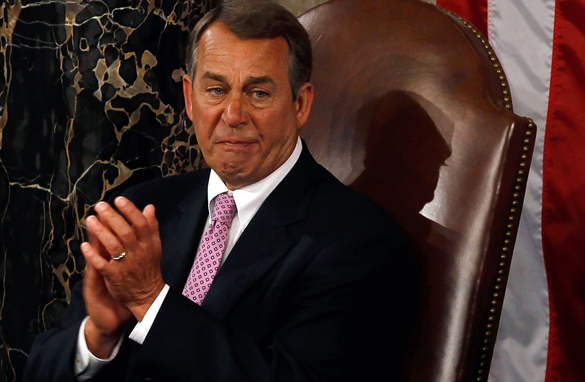 Speaker of the House John Boehner, R-Ohio, seems to fight back tears while listening to Australian Prime Minister Julia Gillard address a joint meeting of the Congress from the floor of the House of Representatives at the U.S. Capitol March 9, 2011 in Washington, DC. Gillard emphasized the long and strong bond between her country and the United States. (Photo credit: Chip Somodevilla/Getty Images)
Have fun with it. We're looking forward to your captions! Make sure to include your name, city, state (or country) so we can post your comment.
Update: Beat 360° Winners:
Staff
Kirk McDonald
"If only the UN could mandate a No Cry Zone."

Viewer
Pari, Georgia
"Oh Prime Minister if only I could live in Australia. Tanning beds are giving me an orange complexion."
___________________________________________________________________________