Ready for today's Beat 360°? Everyday we post a picture you provide the caption and our staff will join in too. Tune in tonight at 10pm to see if you are our favorite! Here is the 'Beat 360°' pic: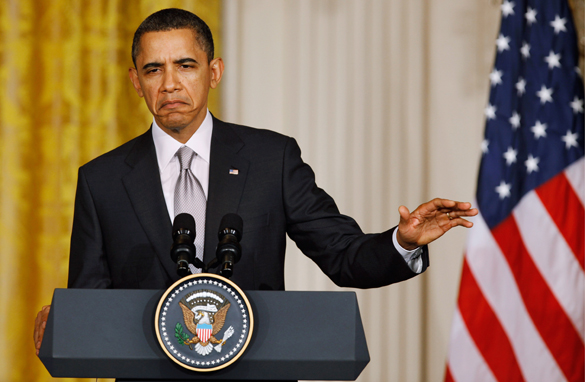 President Barack Obama answers reporters' questions during a joint news conference with Mexican President Felipe Calderon at the White House March 3, 2011 in Washington, DC. (Photo credit: Chip Somodevilla/Getty Images)
Have fun with it. We're looking forward to your captions! Make sure to include your name, city, state (or country) so we can post your comment.
Update: Beat 360° Winners:
Staff
Maureen Miller
"Tom Foreman's Letters to the President?
Please. Enough. I have 773 of them on my desk. The pile is this high."

Viewer
Jabal, Canada
"President Obama telling reporters how high he will let Gadhafi's air force and helicopters fly if the UN/US implement a no-fly zone in Libya."
___________________________________________________________________________