Ready for today's Beat 360°? Everyday we post a picture you provide the caption and our staff will join in too. Tune in tonight at 10pm to see if you are our favorite! Here is the 'Beat 360°' pic: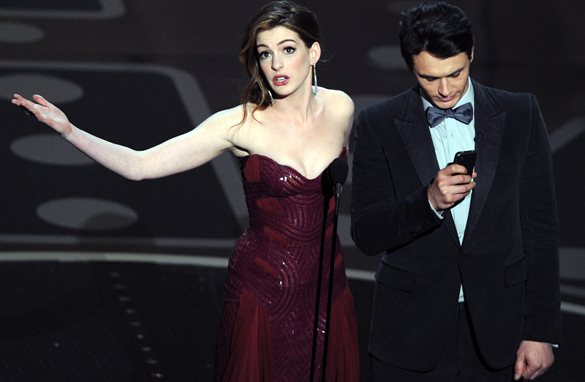 Actors Anne Hathaway and James Franco present the 83rd Annual Academy Awards at the Kodak Theatre late on February 27, 2011 in Hollywood, California. (Photo credit: Gabriel Bouys /AFP/Getty Images)
Have fun with it. We're looking forward to your captions! Make sure to include your name, city, state (or country) so we can post your comment.
Update: Beat 360° Winners:
Staff
Sam Meyer
"James, honey, 'phone it in' is just an expression."

Viewer
Sharon Gillis
"You want funnier jokes? James. Quick. See if there's an app for that."
___________________________________________________________________________