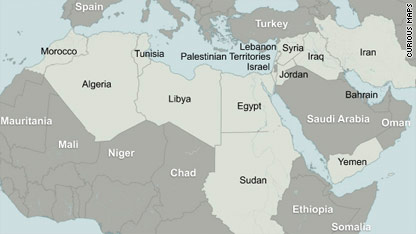 CNN Wire Staff
(CNN) - Two months ago, a Tunisian fruit vendor lit a match, starting a fire that has spread throughout the Arab world. Muhammad Bouazizi's self-immolation prompted anti-government protests that toppled the regime in Tunisia and then Egypt. The demonstrations have spread across a swath of the Middle East and North Africa. Here are the latest developments, including the roots of the unrest:
Tuesday's developments:

ALGERIA
Algeria's government declared an end to a nearly two-decade state of emergency Tuesday, its state news agency announced, lifting restrictions on freedom of speech and assembly imposed in 1992 to combat an Islamist insurgency. Critics say the insurgency has long since diminished, and the law remained only to muzzle critics of the government.
Algerian President Abdelaziz Bouteflika announced this month that he would soon lift the emergency declaration, a move analysts said was aimed at getting ahead of a protest movement that has grown since January.
Roots of unrest:
Protests began in January over escalating food prices, high unemployment and housing issues. They started in Algiers, but spread to other cities as more people joined and demonstrators toppled regimes in Tunisia and later Egypt. Bouteflika announced that he would lift the state of emergency law in what analysts called an attempt to head off a similar revolt.
BAHRAIN
The Bahraini government urged people to embrace a national dialogue Tuesday as the country continues to experience anti-government protests that have swept through the Middle East.
The head of the country's largest opposition party, the Haq Movement, planned to arrive home Tuesday after the government announced that it was closing cases against several Shia leaders. Movement leader Hassan Mushaimaa, who has been living in exile, had previously been arrested for campaigning for more democratic rights in the island monarchy.
At the same time, more mass protests were planned, along with a funeral for one of the protesters shot last week.
Roots of unrest:
Protesters initially took to the streets of Manama last week to demand reform and the introduction of a constitutional monarchy. But some are now calling for the removal of the royal family, which has led the Persian Gulf state since the 18th century. Young members of the country's Shiite Muslim majority have staged protests in recent years to complain about discrimination, unemployment and corruption, issues they say the country's Sunni rulers have done little to address. The Bahrain Center for Human Rights said authorities launched a clampdown on dissent in late 2010. It accused the government of torturing some human rights activists.