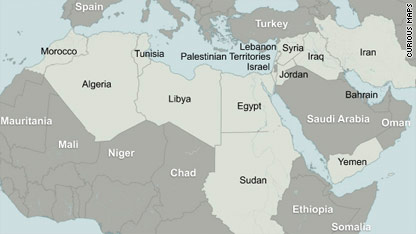 CNN Wire Staff
(CNN) - Two months ago, a Tunisian fruit vendor struck a match that started a fire that has spread throughout the much of North Africa and the Middle East. Muhammad Bouazizi's self-immolation prompted anti-government protests that toppled regimes in Tunisia and Egypt. Here are the latest developments, including the roots of the unrest, as well as a look at previous events in affected countries.
Friday developments:
LIBYA
Tens of thousands of Libyans took to the streets Friday to air their discontent with four decades of Moammar Gadhafi, the longest-ruling non-royalty head of state in the world, witnesses said. At least 20 people were killed and 200 were injured in the northern Mediterranean city of Benghazi, Libya's second largest, said a medical source in Benghazi, who was not identified for security reasons. CNN was unable to independently verify the information. U.S. President Barack Obama condemned the outbreak of violence in Libya.
Roots of unrest:
Protests in Libya, ruled by Gadhafi since a 1969 coup, began in January when demonstrators, fed up with delays, broke into a housing project the government was building and occupied it. Gadhafi's government responded with a $24 billion fund for housing and development. A month later, more demonstrations were sparked when police detained relatives of those killed in an alleged 1996 massacre at the Abu Salim prison, according to Human Rights Watch. High unemployment has also fueled the protests, as have anti-Gadhafi groups
BAHRAIN
Four people were killed in the center of Bahrain's capital Friday, where shots were fired after demonstrators gathered, an ambulance worker in Manama told CNN. U.S. President Barack Obama condemned the violence. The new protests came a day after a violent police and military crackdown left four dead and scores wounded. What seemed like thousands of people - some chanting anti-government slogans - marched in the town of Sitra to attend the funerals of three of the four people killed Thursday. Two other people died during disturbances earlier in the week. The tiny island nation is a U.S. ally and houses the headquarters of the U.S. Navy's Fifth Fleet.
Roots of unrest:
Protesters initially took to the streets of Manama on Monday to demand reform and the introduction of a constitutional monarchy. But some are now calling for the removal of the royal family, which has led the Persian Gulf island state since the 18th century. Young members of the country's Shiite Muslim majority have staged violent protests in recent years to complain about discrimination, unemployment and corruption, issues they say the country's Sunni rulers have done little to address. The Bahrain Center for Human Rights says authorities launched a clampdown on dissent in late 2010. It accused the government of torturing some human rights activists.