Ready for today's Beat 360°? Everyday we post a picture you provide the caption and our staff will join in too. Tune in tonight at 10pm to see if you are our favorite! Here is the 'Beat 360°' pic: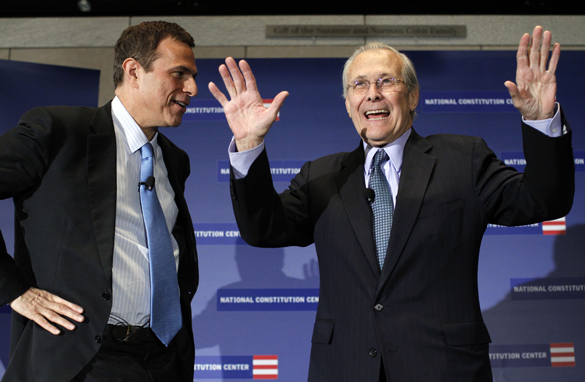 Former Secretary of Defense Donald Rumsfeld, right, thanks the audience while alongside presidential historian Michael Beschloss, left, at the National Constitution Center where he is launching his book on February 9, 2011 in Philadelphia, Pennsylvania. (Photo credit: Jessica Kourkounis/Getty Images)
Have fun with it. We're looking forward to your captions! Make sure to include your name, city, state (or country) so we can post your comment.
Update: Beat 360° Winners:
Staff
Ben Finley
"…you do the hokey pokey and you turn yourself around, that's what its all about"

Viewer
Melvin Felix
"By the way, guys, I was totally kidding about the second swine flu outbreak!"
___________________________________________________________________________