Ready for today's Beat 360°? Everyday we post a picture you provide the caption and our staff will join in too. Tune in tonight at 10pm to see if you are our favorite! Here is the 'Beat 360°' pic: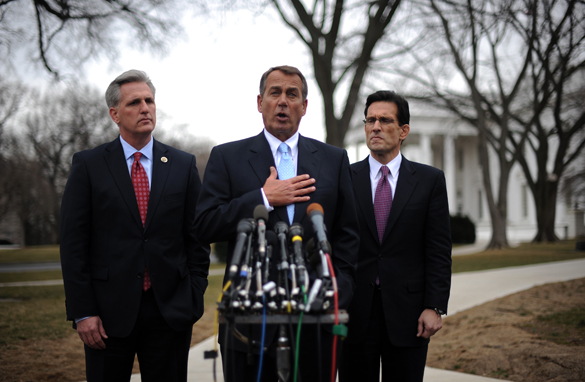 Speaker of the House John Boehner, center, House Majority Whip Kevin McCarthy, left, and House Majority Leader Eric Cantor, right, speak to the press after having lunch with President Barack Obama on February 9, 2011 at the White House in Washington, DC. (Photo credit: Tim Sloan/AFP/Getty Images)
Have fun with it. We're looking forward to your captions! Make sure to include your name, city, state (or country) so we can post your comment.
Update: Beat 360° Winners:
Staff
Joey Gardner
"Did he just say 'twilight's last gleaming' twice?"

Viewer
Nancy S. – NJ
"Ok, ok I confess. We smoked cigarettes. Biden dropped F bombs. On the bright side, Michelle Obama made us eat our vegetables."
___________________________________________________________________________