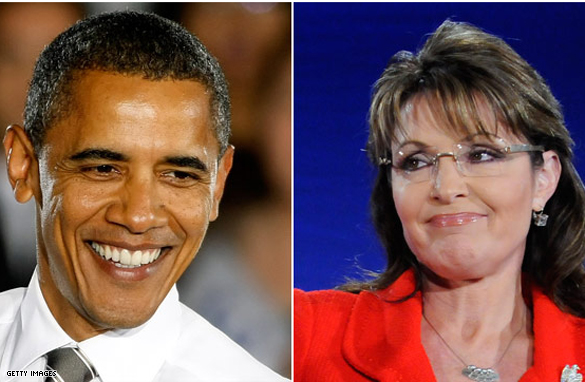 CNN Political Ticker
As the start of the next presidential campaign nears, a new national poll suggests that President Barack Obama's tax-cut compromise with congressional Republicans did not hurt his standing among Democrats, while former Alaska Gov. Sarah Palin may be dropping in the eyes of Republicans.
According to a CNN/Opinion Research Corporation survey released Tuesday, 78 percent of Democrats questioned in the poll say they want to see Obama at the top of their party's ticket in 2012, with only 19 percent saying they would prefer someone else as the Democratic presidential nominee. The 19 percent figure is the lowest figure since March, when the question was first asked.
Many liberal Democrats opposed the tax rate compromise because it included provisions that helped the wealthy. Although previously released numbers indicate the president's approval rating among self-described liberals dropped from 79 percent in November to 72 percent in December, the survey suggests that when it comes to the next presidential election, the tax deal may not be hurting him with the progressive wing of the party.
"Among liberal Democrats, 85 percent say they want to see the party re-nominate Obama in 2012," says CNN Polling Director Keating Holland. "Among moderate Democrats, his support is almost that high."
In the battle for the GOP presidential nomination, the survey suggests Palin may have some work to do if she throws her hat in the ring. Only 49 percent of Republicans say that they are likely to support Sen. John McCain's running mate in 2008 for the Republican nomination in 2012.