Ready for today's Beat 360°? Everyday we post a picture you provide the caption and our staff will join in too. Tune in tonight at 10pm to see if you are our favorite! Here is the 'Beat 360°' pic: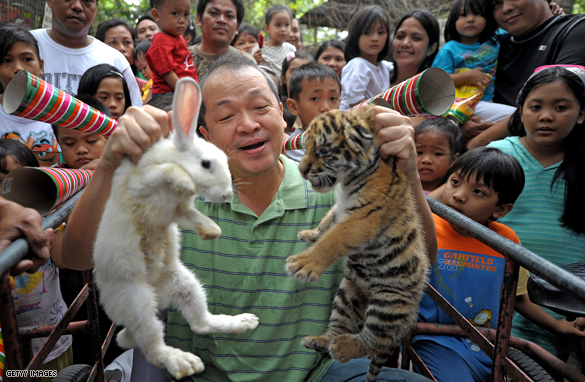 Zoo owner Manny Tangco holds up a rabbit and a tiger cub while surrounded by local children at the Malabon Zoo in Malabon, in northern Metro Manila on December 28, 2010 to illustrate the shift from the 'Year of the Tiger' to the 'Year of the Rabbit'. (Photo credit:NOEL CELIS/AFP/Getty Images)
Have fun with it. We're looking forward to your captions! Make sure to include your name, city, state (or country) so we can post your comment.
Update: Beat 360° Winners:
Staff
Candy Crowley
"Whoa Whoa Whoa....What's with the tiger? Was told I would run with a tortoise."

Viewer
Stephen C.
"Cage match. Two will enter. One will leave."
___________________________________________________________________________