Ready for today's Beat 360°? Everyday we post a picture you provide the caption and our staff will join in too. Tune in tonight at 10pm to see if you are our favorite! Here is the 'Beat 360°' pic: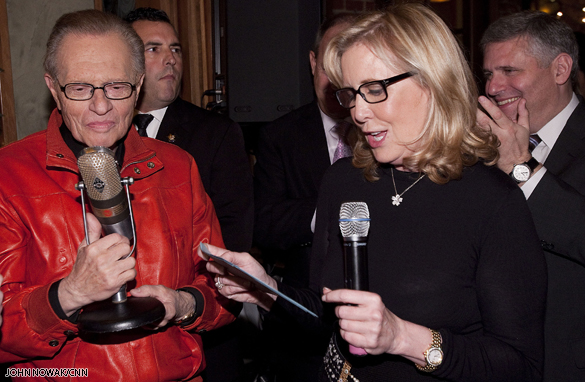 CNN senior executive producer Wendy Walker presents Larry King his microphone during King's final broadcast party Thursday, Dec. 16, 2010 in Beverly Hills, CA. (Photo credit: John Nowak/CNN)
Have fun with it. We're looking forward to your captions! Make sure to include your name, city, state (or country) so we can post your comment.
Update: Beat 360° Winners:
Staff
Kirk McDonald
"I swear to God, if she mentions that book one more time…"

Viewer
Jeff, Washington, PA
"25 years and all they give me is a lousy microphone."
___________________________________________________________________________