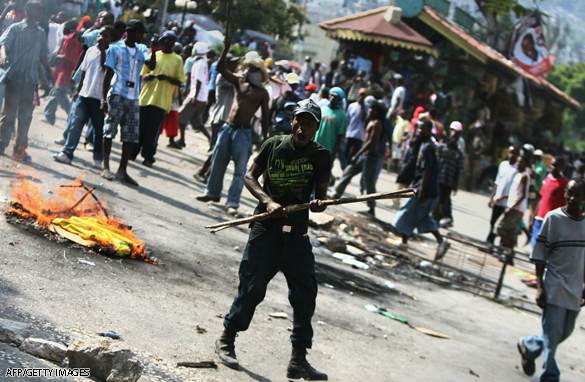 Jessica Desvarieux
TIME
The longstanding credibility issues of Haiti's Provisional Electoral Council (CEP) continued on Tuesday, when it announced preliminary election results that gave second place — and a place on a runoff ballot on January 16 — to President Rene Preval's hand-picked candidate, Jude Celestin. International observer groups maintain that Celestin had, in fact, finished third behind opposition candidate Michel "Sweet Micky" Martelly. After an election marred by widespread reports of fraud, many Haitians took to the streets to make it clear whom they were believing, and it wasn't the CEP.
[cnn-photo-caption image=http://i2.cdn.turner.com/cnn/2010/images/12/09/art.afpgetty_haitielex.jpg caption="Protesters have taken to the streets of Haiti by the thousands, angry with Tuesday's election results."]
The resulting wrath, especially among Martelly supporters, led to gunfire and left the streets of Port-au-Prince choked by' roadblocks and burning tires on Wednesday, while the headquarters of the ruling INITE (Unity) Party was set on fire. Preval, widely criticized for his aloof response to January's massive earthquake that killed 230,000 people, called for calm; but the unrest shut down the capital's airport. With more than a million Haitians still homeless after the quake, and with a cholera epidemic so far claiming 2,100 more lives, the nation is in no mood to tolerate what many suspect is government-engineered fraud. "All the money Celestin spent on his campaign, he could have [bought us new homes]," says protester Dadil Jean-Pierre, 21. "INITE has been in power for too long, and they haven't done anything for us with their power."
According to the CEP, opposition candidate Mirlande Manigat, a 70-year-old constitutional law professor and former First Lady, finished first with 31% of the vote, followed by engineer Celestin, 48, with 22.5% and Martelly, 49, with 21.8%. That razor-thin margin, representing fewer than 7,000 votes, has provoked widespread skepticism, since independent organizations such as the European Union-financed National Election Observation Council (CNO), which placed more than 5,500 monitors at 15% of Haiti's polling stations, estimated that Martelly won closer to 25% and Celestin about 20%.
Even the U.S., which contributed $14 million to the election effort, says it's worried that the CEP's results are "inconsistent" with those of credible international watchdogs, and urged that the results reflect "the will of the people". And while the Organization of American States (OAS) and the Caribbean Community (Caricom), which jointly monitored the election, said they considered the vote valid, they warned that the CEP results "are preliminary and therefore not the final word on the outcome of the first round," which are scheduled to be released on Dec. 20.