Ismael Estrada
AC360° Producer
It was a cold, crisp Texas morning when Gary Tuchman, photojournalist Mike Love and I showed up to the Tom Green County Courthouse today just after dawn. We wanted to make sure we got there early in hopes of getting Warren Jeffs to talk with us as he was scheduled to arrive in court.
The self proclaimed prophet and polygamist sect leader was transferred here last week after being extradited from Utah.
The leader of the Fundamentalist Church of Jesus Christ of Latter Day Saints (FLDS) was indicted on bigamy and sexual assault charges stemming from an alleged spiritual marriage to a 12-year-old girl.
Prosecutors filed the charges 2 years ago after authorities raided the sect's Yearning for Zion Ranch in Eldorado, Texas and removed more than 400 children on suspicion that they were exposed to sexual abuse.
Most of the children were returned to the ranch with their families, but many of the men living on the ranch were charged with sexual abuse.
About 45 minutes after we arrived, an SUV pulled up to the courthouse and Warren Jeffs was taken out of the backseat. He was wearing glasses, orange jail pants and a grey sweatshirt.
Sheriff's deputies escorted Jeffs who was handcuffed and had has ankles shackled. Gary asked him if he still felt that he was the prophet as he was entering the building. Jeffs' ignored the questions, but at the Yearning for Zion ranch, we heard from one FLDS member who says Jeffs is certainly the prophet.
71-year old FLDS member Bill Shapley says he has never lost faith in Warren Jeffs. He met us outside the white gates of the ranch where many of the FLDS members still live and work with their families.
Shapley, who admits to having many wives says his leader is being wrongly persecuted. He also justifies underage marriage saying that it's the emotional maturity of the girl and not the physical age that's important.
"God doesn't look at age as a criteria." Said Shapely.
Back in court, Jeffs' Nevada based attorney asked for a delay in his client's trial saying that Jeffs' was having trouble finding legal counsel. That request was denied by the judge saying that Jeffs has known about the charges pending in Texas for some time.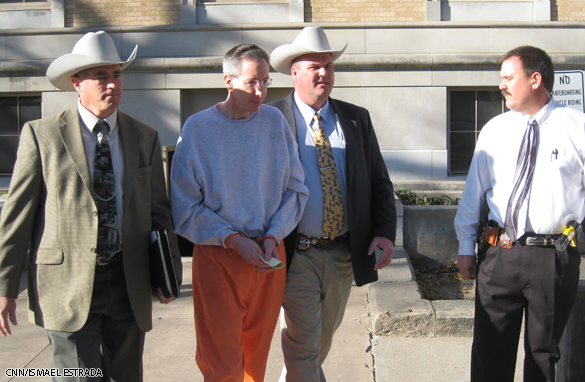 Gary Tuchman and AC360° producer Ismael Estrada followed polygamous sect leader Warren Jeffs to Texas where he awaits trial on sexual assault and bigamy charges.