Ready for today's Beat 360°? Everyday we post a picture you provide the caption and our staff will join in too. Tune in tonight at 10pm to see if you are our favorite! Here is the 'Beat 360°' pic: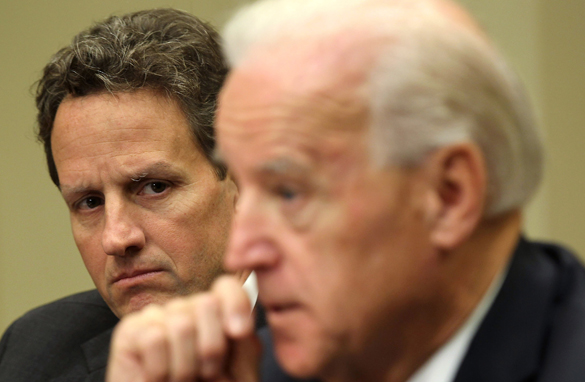 Vice President Joseph Biden, right, speaks to the media as he meets with Secretary of the Treasury Timothy Geithner in the Roosevelt Room of the White House December 3, 2010 in Washington, D.C. Biden met with Geithner for an update on the current tax policy negotiations on the Hill. (Photo credit: Alex Wong/Getty Images)
Have fun with it. We're looking forward to your captions! Make sure to include your name, city, state (or country) so we can post your comment.
Update: Beat 360° Winners:
Staff
Devna Shukla
"I can't believe he still thinks I'm Piers Morgan."

Viewer
Don, Oswego, Ill
"Don't stare at me like that Tim. All I said was that if a little green gecko can save people 15% on car insurance why can't you come up with a way to save the tax payers something?"
___________________________________________________________________________