Ready for today's Beat 360°? Everyday we post a picture you provide the caption and our staff will join in too. Tune in tonight at 10pm to see if you are our favorite! Here is the 'Beat 360°' pic: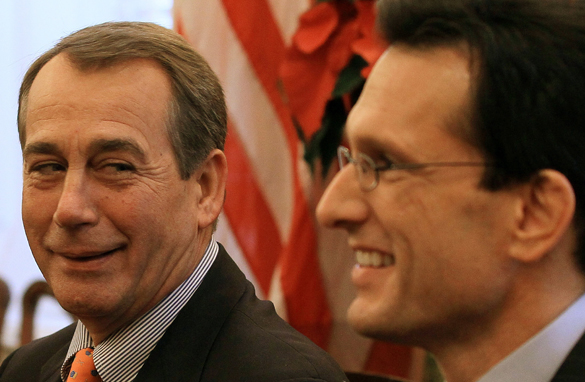 House Speaker-designate John Boehner, R-Ohio, pictured left, and House Majority Leader-elect Eric Cantor, R-Virginia, pictured right, participate in a media briefing after GOP leaders met at the White House with President Barack Obama on November 30, 2010 in Washington, DC. (Photo credit: Mark Wilson/Getty Images)
Have fun with it. We're looking forward to your captions! Make sure to include your name, city, state (or country) so we can post your comment.
Update: Beat 360° Winners:
Staff
Kira Kleaveland
"You think I'm joking about getting that Jersey Shore guest spot Cantor, but you have no idea."

Viewer
Deb Reitenour, Portland, OR
"NEVER eat the intern's brownies."
___________________________________________________________________________