Ready for today's Beat 360°? Everyday we post a picture you provide the caption and our staff will join in too. Tune in tonight at 10pm to see if you are our favorite! Here is the 'Beat 360°' pic: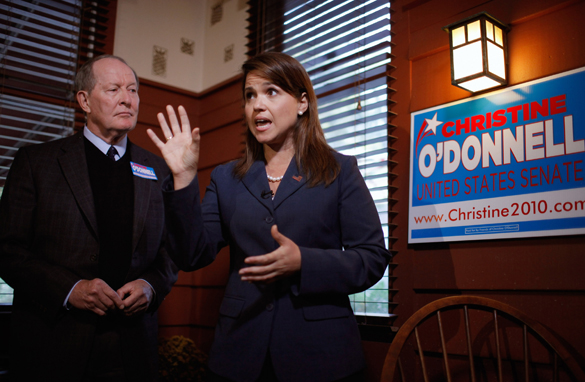 Senate Republican Conference Chair Lamar Alexander and Republican Senate candidate Christine O'Donnell hold a news briefing at Buckley's Restaurant October 29, 2010 in Centreville, Delaware. (Photo credit: Chip Somodevilla/Getty Images)
Have fun with it. We're looking forward to your captions! Make sure to include your name, city, state (or country) so we can post your comment.
Update: Beat 360° Winners:
Staff
William Armsby
"Double, double toil and trouble; Fire burn, and caldron bubble… Uh, I forget the rest. Vote for me!"

Viewer
Alexander, CT
"I'm no Samantha Stephens, but I still remember an incantation or two."
___________________________________________________________________________