Ready for today's Beat 360°? Everyday we post a picture you provide the caption and our staff will join in too. Tune in tonight at 10pm to see if you are our favorite! Here is the 'Beat 360°' pic: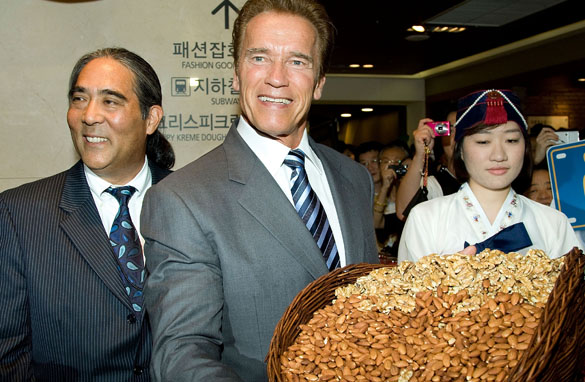 California Governor Arnold Schwarzenegger and State of California, Department of Food and Agriculture, Secretary A.G. Kawamura, left, visit the Lotte Department Store on September 15, 2010 in Seoul, South Korea. (Photo credit: Han Myung-Gu/Getty Images)
Have fun with it. We're looking forward to your captions! Make sure to include your name, city, state (or country) so we can post your comment.
Update: Beat 360° Winners:
Staff
Sean Yates
"Governor Schwarzenegger uses a visual aid to demonstrate his plan to unite the two Koreas, 'I know ziss iss nutty …'"

Viewer
Dave Hronek, Atlanta, GA
"I told you when I was elected I would work for peanuts. Now I'm collecting my bonus!"
___________________________________________________________________________