Ready for today's Beat 360°? Everyday we post a picture you provide the caption and our staff will join in too. Tune in tonight at 10pm to see if you are our favorite! Here is the 'Beat 360°' pic: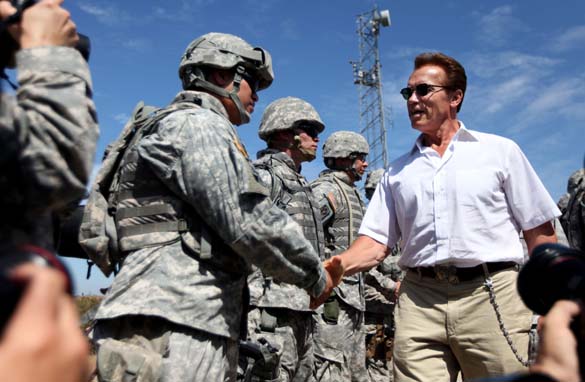 California Gov. Arnold Schwarzenegger greets National Guardsmen during a tour along the U.S.-Mexico border August 18, 2010 in San Ysidro, California. (Photo by Sandy Huffaker/Getty Images)
Have fun with it. We're looking forward to your captions! Make sure to include your name, city, state (or country) so we can post your comment.
Update: Beat 360° Winners
Staff:
Maggie Schneider
"Ahhh, so YOU were the guy who rented "Jingle All the Way." Thank you!"
Viewer:
Vivien from New York
"California Gov. Arnold Schwarzenegger assures national guard troops that they are NOT girly men!"
___________________________________________________________________________