Ready for today's Beat 360°? Everyday we post a picture you provide the caption and our staff will join in too. Tune in tonight at 10pm to see if you are our favorite! Here is the 'Beat 360°' pic: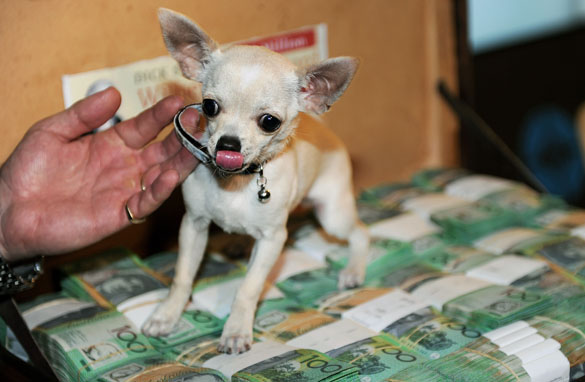 Sixteen-week-old Chihuahua named 'Chilli' sits on a suitcase containing one million Australian dollars (904,000 USD) as Australian businessman Dick Smith (not pictured) speaks to the media to announce the details of his Wilberforce Award in Sydney on August 11, 2010.AFP PHOTO / Greg WOOD (Photo credit should read GREG WOOD/AFP/Getty Images)
Have fun with it. We're looking forward to your captions! Make sure to include your name, city, state (or country) so we can post your comment.
Update: Beat 360° Winners
Staff:
Graham Flanagan:
"Paris,
If you ever wanted to see Tinkerbell again, it'll cost ya' this much. "
Viewer:
Orla from California
"Finally the answer to 'How Much is That Doggie in The Window?'"
___________________________________________________________________________