Ready for today's Beat 360°? Everyday we post a picture you provide the caption and our staff will join in too. Tune in tonight at 10pm to see if you are our favorite! Here is the 'Beat 360°' pic: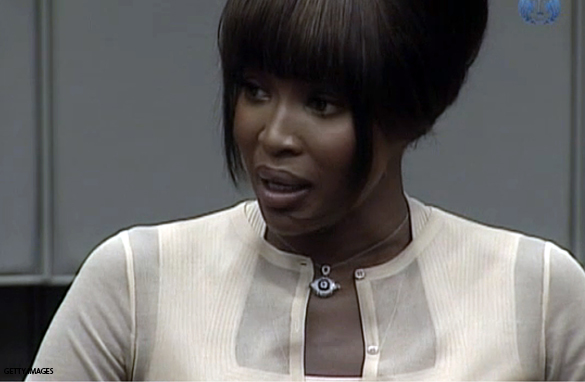 A picture grabbed on the site of the Special Tribunal for Sierra Leone shows British supermodel Naomi Campbell answering questions at the UN-backed Special Court for Sierra Leone in Leidschendam on August 5, 2010. Campbell was testifying before the court in The Hague about the so-called "blood diamond" gift from ex-warlord Taylor who is charged with murder, rape and enslavement.
Have fun with it. We're looking forward to your captions! Make sure to include your name, city, state (or country) so we can post your comment.
Update: Beat 360° Winners
Staff:
Ben Finley
"This better be quick.I have my assistant tied up in the back and a manny appointment to get to."
Viewer:
Tim Gibson from San Diego, CA
"I threw my phone at him, he gave me diamonds. If you want to call that blood diamonds, then blood diamonds it is."
___________________________________________________________________________