Program Note: Rep. Edward Markey will be on AC360° tonight at 10pm ET to talk about BP's use of dispersants and the Coast Guard's approval of that use.
Rep. Edward Markey, Chairman of the House Subcommittee on Energy and Environment, released data and wrote a letter to National Incident Commander Thad Allen, demanding more information from the Coast Guard on BP's use of chemical dispersants in the Gulf.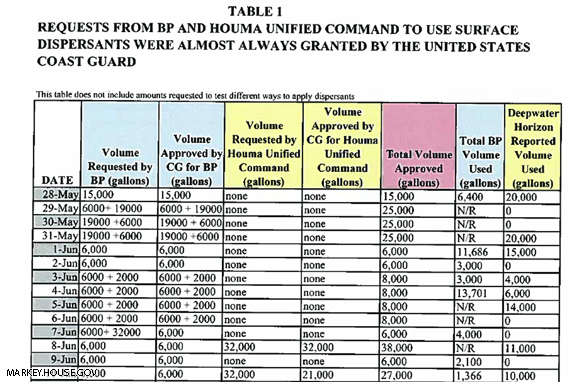 CNN
Retired Coast Guard Adm. Thad Allen, who is overseeing the federal response to the BP oil spill, said Sunday that he is "satisfied" with the amount of dispersants that have been used to clean up the disaster, saying crews have used them only when needed.
Allen's comments were in response to new documents released by a congressional subcommittee that indicate Coast Guard officials allowed BP to use excessive amounts of chemical dispersants in the Gulf of Mexico.
BP used the chemicals to break up oil after the April 20 Deepwater Horizon rig explosion sent millions of gallons of crude gushing into the Gulf.
Allen noted that the decision to use the dispersants does not rest with BP; rather, "it's a decision by the federal on-scene coordinator," he said in describing a "very disciplined process."
Despite a federal directive restricting the use of dispersants, the Coast Guard routinely granted exemptions, said Rep. Edward J. Markey, chairman of the House Energy and Environment Subcommittee.
In May, the Environmental Protection Agency, along with the Coast Guard, ordered the oil giant to stop surface application of the chemicals during the oil spill except in rare occasions, according to a House subcommittee on energy and environment.
Read Rep. Ed Markey's letter below.