Ann Birch
World Vision
June 1, 2010 - The last time I visited Koma Bangou, Niger, was two years ago. Back then, I thought it was one of the poorest and most desperate places I had ever seen.
Koma Bangou is a mining area — very hot, dry, and with poor access to drinking water. The community is made up of people who migrate from all over Niger and neighboring countries.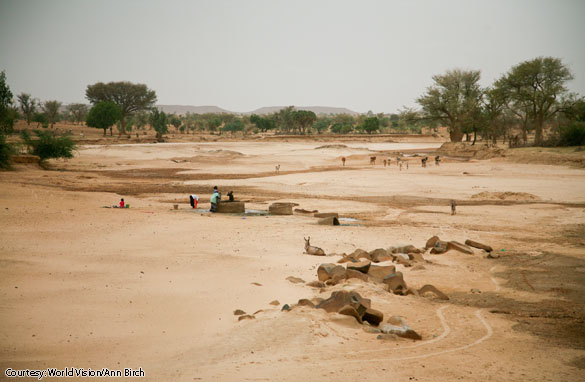 A large river bed on the road to Koma Bangou, Niger is almost completely dried up. People and animals try to make use of the little water that's left before it disappears. Niger's rainy season normally starts in late April or early May, but this year, by June 1, it had only rained three times. The lack of rain means most people have not been able to begin sowing this year's harvest. The lack of rain plus the country's annual "hunger season" (the time from when cereal stocks run out until the next harvest in October) means that more than 7 million people in Niger are at risk of moderate to severe food insecurity.
They are desperately poor, trying to make a living from what is, in effect, a non-productive mine. I am glad for the opportunity to go back to Koma Bangou, but very nervous at the same time. I am worried about what we will find, given the current drought and food crisis.
'In Africa, everyone is looking to the sky'
[cnn-photo-caption image=http://i2.cdn.turner.com/cnn/2010/images/07/26/wv3_web.jpg caption="Zeinaba Abdoulaye feeds her 8-month-old daughter, Tinoumoude Guissa, with Plumpy'Nut, a read-to-use therapeutic food, at a World Vision health center in Niger. Zeinaba left her village at 6 a.m. and walked seven kilometers to bring Tinoumoude to the health center because the baby had had a fever for the past several days. Zeinaba and her husband have two other children at home, but she says there is no millet left in the house to feed her family." width=292 height=320]
On the road to Koma Bangou, all the earth is orange — a really deep terracotta orange. The trees are very sparse, and as we get closer to Koma Bangou, the orange, sandy earth gives way to very rocky soil.
I remember a conversation I had with a colleague, Moussa, the day before.
He told me that it has only rained two or three times so far this rainy season. Normally, it should start to rain in late April and continue through September. On hearing this, my heart sinks.
This isn't just about communities trying to make it through the annual "lean season," which are typically the months running up to the October harvest. It could mean that even this year's planting and upcoming harvests are at risk. It's not what I wanted to hear.
We drive by another river bed; this time, there is a small amount of water in it. Others are completely dry. We pass two Fulani herders, and the angular bones of their skinny cattle stick out.
Again, I think of a conversation from the day before. "In Africa, everyone is looking to the sky," someone had said to me. "Communities do not understand the rain patterns anymore."
How can they, I wonder, given the changes in seasonal rainfall?
Help for the hungry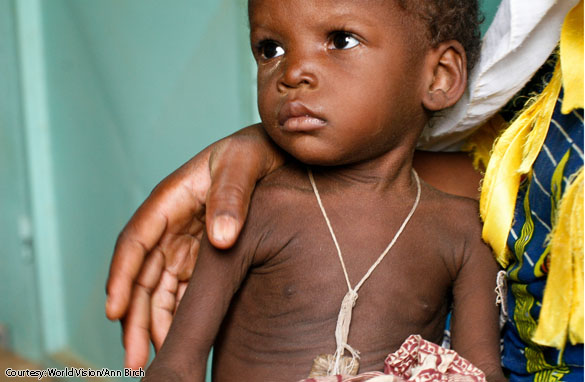 Two-year-old Jamila's baggy skin is a symptom of severe acute malnutrition. The little girl was brought to one of World Vision's health centers in Koma Bangou, Niger. In Koma Bangou, health workers have already identified 53 cases of severe acute malnutrition, up from 22 cases recorded for all of 2009.
We arrive at the health care center in Koma Bangou; it's time to start working. The community volunteers and health workers trained by World Vision were in full swing when we arrived, already weighing and assessing the children and babies for malnutrition.
I start to photograph the babies, and I feel my stomach turn over every time I hold the camera up and see another skinny body in front of me. It seems like baby after baby is suffering from severe malnutrition.
[cnn-photo-caption image=http://i2.cdn.turner.com/cnn/2010/images/07/26/wv4_web.jpg caption="A community health volunteer weighs 12-month-old Mariam at a health center in Koma Bangou, Niger. Mariam lives with her 19-year-old mother, Baraka, nearby. Baraka said she cried when she found out her daughter was severely malnourished. She said she would like to feed her child but often has no food to give her." width=292 height=320]
The day we spent in Koma Bangou, 13 new cases of acute severe malnutrition were identified — bringing the current total of severe cases in this one health care center to 53 in just three weeks. I am told by health staff at the center that last year, there were just 22 severe malnutrition cases for the entire year. The comparison is startling.
World Vision has received a $1 million grant from the United States' Office of Foreign Disaster Assistance to implement an emergency nutrition intervention in Niger. The grant will provide food for nearly 28,000 malnourished children over the course of one year. To help support World Vision's response in Niger, please visit www.worldvision.org/nigercrisis or call your members of Congress and ask them to support the Global Food Security Act, legislation that would make a significant contribution toward reducing hunger by investing in sustainable agriculture and nutrition programs.