Ready for today's Beat 360°? Everyday we post a picture you provide the caption and our staff will join in too. Tune in tonight at 10pm to see if you are our favorite! Here is the 'Beat 360°' pic: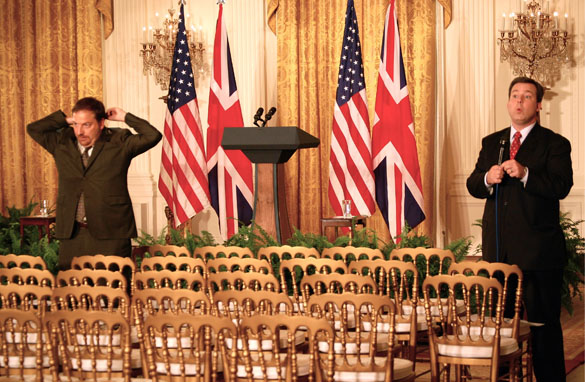 CNN's Ed Henry reporting on today's White House conference held by President Obama with British Prime Minister David Cameron. (Photo Credit: Major Garrett)
Have fun with it. We're looking forward to your captions! Make sure to include your name, city, state (or country) so we can post your comment.
Update: Beat 360° Winners
Staff:
Gabriel Falcon
"He's got a goatee and an awkward dancing move. Let's start the bidding at a nickel. Anyone?"
Viewer:
Sandy
"Ed Henry sings the National Anthem, while Chuck Todd desperately tries tries to find his earplugs."
________________________________________________________________________________