Ready for today's Beat 360°? Everyday we post a picture you provide the caption and our staff will join in too. Tune in tonight at 10pm to see if you are our favorite! Here is the 'Beat 360°' pic: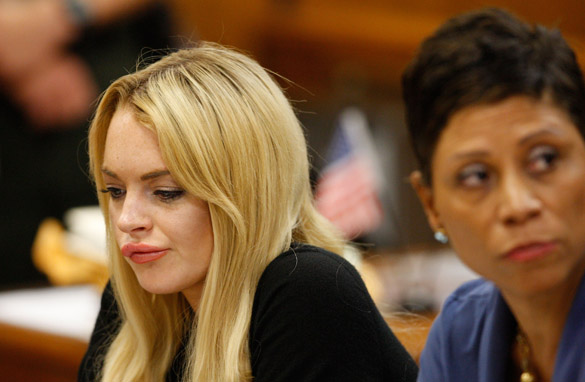 Actress Lindsay Lohan (L) and lawyer Shawn Chapman Holley attend a probation revocation hearing at the Beverly Hills Courthouse on July 6, 2010 in Los Angeles, California. Lindsay Lohan was put on probation for her August 2007 no-contest plea to drug and alcohol charges stemming from two separate traffic accidents, but the probation was revoked in May 2010 after missing a scheduled hearing. (Photo by David McNew/Getty Images)
Have fun with it. We're looking forward to your captions! Make sure to include your name, city, state (or country) so we can post your comment.
Update: Beat 360° Winners
Staff:
Kirk McDonald
"You know you've lived hard when you make Queen Elizabeth look young."
Viewer:
Amanda from North Dakota
"Hmm... Which purse looks good with orange?"
________________________________________________________________________________