Ready for today's Beat 360°? Everyday we post a picture you provide the caption and our staff will join in too. Tune in tonight at 10pm to see if you are our favorite! Here is the 'Beat 360°' pic: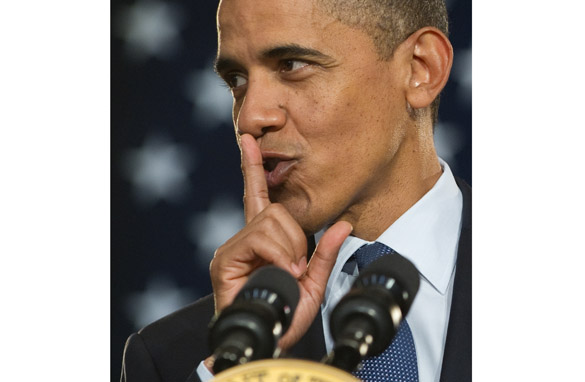 US President Barack Obama gestures for the crowd to keep quiet about his visit to the O&H Danish Bakery to buy kringle pastries so that First Lady Michelle Obama wouldn't find out about the visit, during a town hall event on the economy at Racine Memorial Hall in Racine, Wisconsin, June 30, 2010. AFP PHOTO / Saul LOEB (Photo credit should read SAUL LOEB/AFP/Getty Images)
Have fun with it. We're looking forward to your captions! Make sure to include your name, city, state (or country) so we can post your comment.
Update: Beat 360° Winners
Staff:Steve Brusk
"President Obama's most frequent conversation with Vice President Biden."
Viewer: Kevin, Nova Scotia
"The day the President's teleprompter writer missed the 'a' in the word Shah."
________________________________________________________________________________