Ready for today's Beat 360°? Everyday we post a picture you provide the caption and our staff will join in too. Tune in tonight at 10pm to see if you are our favorite! Here is the 'Beat 360°' pic: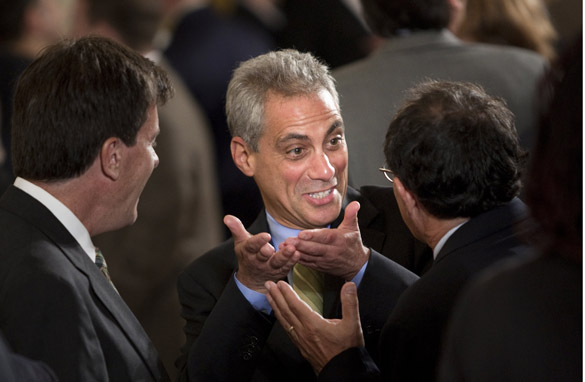 White House Chief of Staff Rahm Emanuel (C) speaks with guests during an event in the East Room of the White House June 22, 2010 in Washington DC. (Photo by Brendan Smialowski-Pool/Getty Images)
Have fun with it. We're looking forward to your captions! Make sure to include your name, city, state (or country) so we can post your comment.
Beat 360° Winners:
Staff:
Nate Little:
"And I asked the Rolling Stone guy to bring me his head on a platter!"
Viewer:
Gary from Japan
"Forget the economy – did you guys see that goal?!"
________________________________________________________________________________