Ready for today's Beat 360°? Everyday we post a picture you provide the caption and our staff will join in too. Tune in tonight at 10pm to see if you are our favorite! Here is the 'Beat 360°' pic: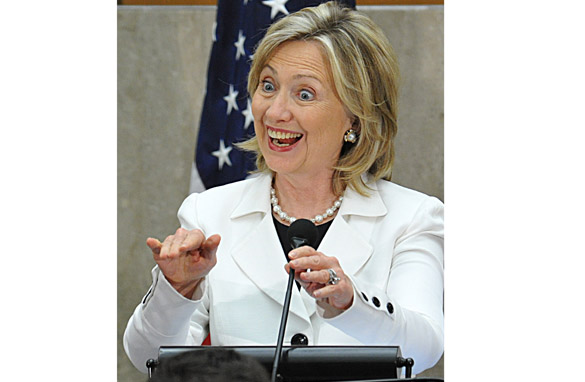 Secretary of State Hillary Clinton acknowledges the audience after delivering opening remarks. Clinton discussed human rights and US foreign policy. AFP PHOTO/ Karen Bleier (Photo credit should read KAREN BLEIER/AFP/Getty Images)
Have fun with it. We're looking forward to your captions! Make sure to include your name, city, state (or country) so we can post your comment.
Beat 360° Winners:
Staff:
Steve Brusk
"This smile? It's because Barack gets those 3am phone calls I warned about, not me!"
Viewer:
Robert from Palm Desert
"Vice President? Oh, no... why should I? From my office I can see 2016."
________________________________________________________________________________