Ismael Estrada
AC360­° Producer
I was able to get home to Chicago for a great Father's Day weekend, while many of my colleagues stayed in the Gulf to continue our coverage of the oil disaster. There is nothing better than sitting in bed, sipping coffee and listening to my three kids giggle with excitement as they run around the house gathering all the gifts they spent the week making for me. I cherish every single moment like that. As we were having a barbecue, many of our friends in the neighborhood came by and started to ask me about the Gulf and expressed how frustrated they were. Some were downright angry. I went back inside after a great day and a half, bathed the kids and packed my bag for another week in the Gulf.
[cnn-photo-caption image=http://i2.cdn.turner.com/cnn/2010/images/06/21/ish1_web.jpg width=292 height=320]
It's amazing to think that we're heading into our 5th week in the area to cover this oil spill tragedy. Each week, we've met or have seen something that will stay with us forever. The first week we were down here, the oil had just started to wash ashore in Grand Isle. There were signs posted all over the region expressing anger and frustration with B.P.; people were trying to determine how this was going to affect their lives.
The one sight that will remain burned in my memory was the first time Anderson and I went into the marsh. My heart sank as I realized we were literally floating in a giant pool of oil. There were no sounds, no birds, no wildlife, just brown sludge and that horrible toxic smell.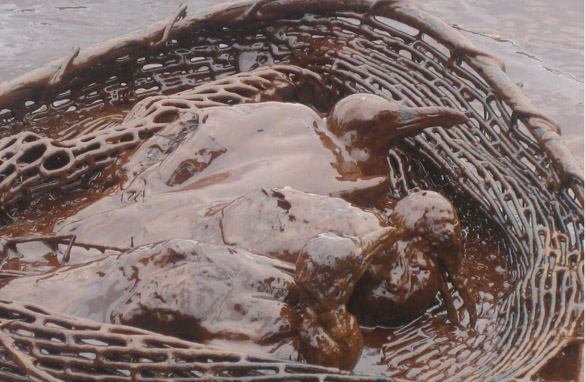 A week later we were on a dock in Grand Isle, waiting to interview some people we had met earlier when a boat pulled up with birds covered in the sludge. They were struggling for air as oil dripped off their bills and feathers. They were so soaked in oil it looked as if they were dipped in a drum of oil and left for dead. We watched as frustrated workers did all they could to save the birds.
We have met some wonderful people here. People who have had their lives turned upside down and their businesses destroyed. They're resilient, strong and able to take a punch, but they've made their lives on the fruits of the Gulf. For many of them, it's all they know. It's the kind of problem money can't fix entirely. They'll have to pick up and start over doing something else entirely as the life they once had here can't be sustained in these waters, at least for a while.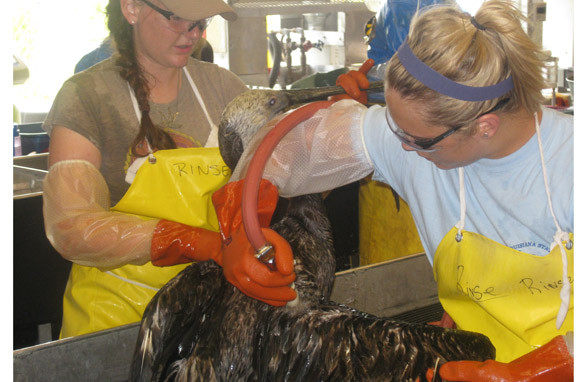 All of this while we've listened to executives from the company who made this mess say they are doing all they can to remedy the situation, but also say things like "I want my life back" or "We care about the small people." We've watched as the "top kill" and "junk shot" efforts have failed and hope, with everyone else, that the oil will stop spewing into the water before August when the relief wells are expected to be in place.
What is most amazing to me, after all this time, all these days and weeks that we continue to cover the mess the oil is still gushing into the Gulf. We came out here knowing we were covering a disaster, but now - weeks later - we know we are covering a nightmare our children will read about in history books. Will they ever know the Gulf I know? Sadly, I don't think so.