Tom Foreman | BIO
AC360° Correspondent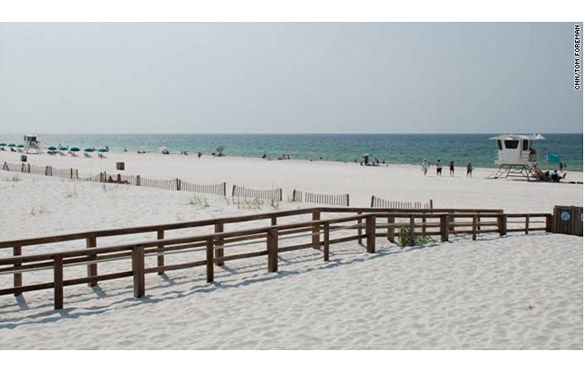 I'm standing in the sugar white sands of Pensacola Beach, staring out at impossibly beautiful, clear water, and seeing something that I have never seen before in thirty years of coming to their area: an empty beach at the start of summer. Tourist season on the Gulf has meant massive, excited, and celebratory crowds for as long as I can recall; rivers of people from hundreds, sometimes thousands of miles away coming to enjoy seafood, sun, and some of the prettiest dunes I have ever seen anywhere on the planet.
What has chased the crowds away is not oil per se, because there is precious little sign of it to be found anywhere within miles of here, but rather the fear of oil. And yet that has been enough to leave parking lots, hotels, restaurants and souvenir stands starved for customers. By at least one estimate, the catastrophe of the Deep Water Horizon could cost the Florida Gulf Coast almost 200,000 jobs before it is all over. But people here are fighting back.
The local government has granted some delays in payments from some business people who lease beachfront property; the Florida Small Business Development folks are hustling out loans to keep the lights on for those who are struggling hardest, bridge loans are also coming in to keep the shop doors open day to day, week to week, as they wait to see how the oil scare plays out. But perhaps most importantly, local folks are showing up as much as they can to help make up for the missing visitors, trying to build up their corner of America against terrible odds.
Everyone here knows that the oil may eventually make it to their shore, and they dread it. But for the moment, they are fighting desperately to get the message out that their beaches are pristine, their waters crystal blue, and that this is actually a spectacular time for a Gulf beach vacation. And looking up and down this beautiful shore with the sun rising on another wonderful day, it's easy to see that they are right.