Charity Tooze
Special to AC360°
World Refugee Day is the one-day of the year created to draw the world's attention to the most vulnerable and disenfranchised people – refugees. According to the United Nations High Commissioner for Refugees' (UNHCR) 2009 Global Trend Report, there are approximately 15.2 million people classified as refugees around the world. This number only represents a portion of the displaced. According to the report, 2009 marked the highest volume of forcibly displaced people – approximately 43.3 million people fled their homes due to violence or persecution. Refugees and internally displaced people (IDPs) bare the brunt of dysfunctional governments and the backlash of geopolitical conflicts. "No one ever plans to be a refugee. Any of us could be forced from our homes at anytime," said Jesse Bernstein, senior associate at Human Rights First. The challenges facing refugees have grown over the past years, political and economic crises have made it increasingly difficult for refugees and IDPs.
Security and Economic Issues
Since 2001, refugees contend with global fears about terrorism. "Many refugees have actually been victims of terrorist groups or other armed actors," Bernstein said. According to the global trends report the highest volume of refugees in 2009 fled from Afghanistan and Iraq respectively. Following September 11, the U.S. drastically altered its refugee policy. New systems were set-up to screen for potential terrorists. While this made sense given the violent attack, increased security concerns has made it difficult for some refugees to be cleared by Homeland Security. In some instances individuals have said they were turned away because of an affiliation with certain political parties or others said they were declined because the U.S. Office of Migration (IOM) notes inconsistencies in their account of prosecution.
In 2009, I interviewed roughly 50 Iraqi refugee families living in Syria and Jordan. One families' story of being declined for resettlement stands out. A mother and her four daughters fled to Jordan after her 17-year old son was murdered in front of the family. She said the militia group murdered him because she was a member of the Baath party. When she registered as a refugee in Jordan and applied for resettlement to the U.S. she said she was turned away for belonging to the party. "But many people belong to the party, you need to in order to go to school or get a job," she said. This woman's oldest daughters have now dropped out of school. She said recently they were working at a handbag factory and the owner stopped paying them. They had no legal way of reporting the problem because Iraqis are not legally allowed to work in Jordan. Another alarming trend post-9/11 is the increase in detention of asylum seekers in the name of promoting security.
[cnn-photo-caption image=http://i2.cdn.turner.com/cnn/2010/images/06/18/charity1.jpg caption="This young Iraqi woman's 17 year old brother was murdered. Her family was denied resettlement" width=292 height=320]
Photo Courtesy: Photographer Zein Salti
"The use of immigration detention has increased dramatically and at a substantial cost to U.S taxpayers," said Eleanor Acer director of refugee protection programs at Human Rights First. She said it cost the U.S. 300 million dollars to detain asylum seekers between 2003 and 2009. Acer described the story of a young Congolese woman who was kidnapped by an armed group. "Her asylum request has been put on hold because the rebel's training her to use a machete is considered by U.S. immigration authorities to be "military-type" training under the immigration law's terrorism bars," Acer said. Acer says that asylum seekers including refugees without passports or who hold visas considered invalid by immigration officers, are detained in a process known as expedited removal. "Asylum seekers are detained in prisons and prison-like facilities even though they are not being held for violation of any criminal law," Acer said. Acer did note that there had been some improvements. She said the Assistant Secretary of Immigration and Customs Enforcement and the US Department of Homeland Security announced that they would transition from their reliance on facilities modeled on criminal prisons. "However despite this commitment, asylum seekers are still wearing prison uniforms as they mark World Refugee Day from U.S. immigration jails," Acer said. In addition to security barriers to resettlement refugees and the organizations that work with them have been severely affected by the global recession.
The recession has affected all of us but it has particularly affected those who rely on the work of the UN and NGO's to survive. "The recession made the inadequacy in the [U.S.] asylum system more obvious," said Bob Carey, vice president of migration and policy for the International Rescue Committee (IRC). Carey says the United States' asylum system hasn't changed in 25 years. The IRC has a large U.S. resettlement program. When refugees arrive in the U.S. the IRC helps them find an apartment, acquire services and find employment. Carey said prior to the recession when the IRC conducted their six-month employment review of resettled refugees they found 90% of them had jobs for at least two months, working at least 30 hours a week, many with benefits. Today the numbers are very different. "I was talking with a staff member in Phoenix [Arizona] and that number is now hovering at 40%," Carey said.
Donor contributions have also declined due to the recession. Thus important services are being cut back and some discontinued all together. Bernstein said the UNHCR in Jordan has a dignified cash assistance program. They hand out ATM cards and refugees can access money when they want and use the funds how they need. Primarily they use the funds for their rent, food and clothes for their children. "Because of the financial situation the UNHCR has had to cut back its cash assistance program," Bernstein said. One of the fall-outs from the cuts is children are pulled from school to help parents cover the rent. Programs that help enrich the experience of refugees like music or art programs have been discontinued all together. And important life saving services have been substantially reduced. "We've had to cut tertiary health care programs," said Arafat Jamal deputy representative for the UNHCR in Jordan.
Assistance vs. Complacency
Carey said it seems like the international community is comfortable with host countries "warehousing" refugees. According to the global trends report, 2009 had the fewest number of refugees returning to their country of origin since the 1990's. "Major conflicts such as those in Afghanistan, Somalia and the Democratic Republic of Congo show no signs of being resolved. Conflicts that had appeared to be ending or were on the way to being resolved, such as in southern Sudan or in Iraq, are stagnating," said Antonio Guetteres, the current high commissioner of the UNHCR, during a recent speech in Germany.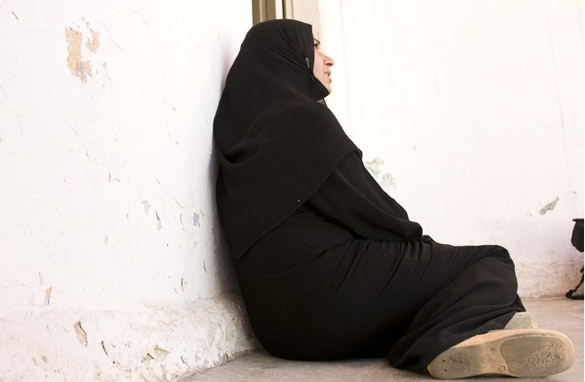 An Iraqi refugee whose home was set on fire suffers from a spinal injury and struggles to walk. Since health care services have been cut their is little hope for her recovery.
Photo Courtesy: Photographer Zein Salti
Carey said the Burmese on the border of Thailand and Burma have been there for 20 years. Both Bernstein and Carey noted the lack of returnees from the Bosnian war. "When people do return its Bosnians going to Bosnian areas and Serbs going to Serbian areas," Bernstein said. The lack of pressure on the international community to push for sustainable peace in post-conflict regions and the gap between peace and development and humanitarian assistance is one of the major problems in refugee returns. At a recent conference on IDPs in New York several panelist pointed out that IDPs have to be included in creating policies for the regions they fled from or they won't return. Carey said they are starting to see this problem in the Iraqi refugee crisis. "If you have large populations of people without access to education, employment and basic human rights it's more than a humanitarian problem it's a security issue." Carey said the security concerns should motivate the international community to find durable solutions for refugees.
New policies
While the situation looks bleak both Bernstein and Carey noted wins in refugee policy reform particularly in the U.S. Historically the U.S. asylum program has allocated $900 for refugees when they enter the U.S. to establish themselves and start their life. In today's world this is far from adequate and in particular cities it won't pay one months rent. Carey said the U.S. just reformed the policy and has doubled the amount. In addition, Human Rights First has been working on a policy proposal to create an expedited resettlement process for LGBT refugees. "The reason we developed this program is when you look at vulnerability globally, in many contexts this group stands out," Bernstein said. He went on to say that when LGBT identified people flee it is often because of persecution on account of their sexual orientation and they often end up in countries that prosecute same sex acts. "In Uganda I know a group of men who can't formalize their stay because they're afraid to approach the police." In many contexts, the police are the first point of contact in applying for refugee status and resettlement. Bernstein said the U.S. was showing a renewed interest in this group and has held a number of useful discussions with human rights organizations about ways to expedite the resettlement of refugees with urgent protection concerns, including LGBT refugees.
"There is a perception that refugees are a burden on a community when in fact they are an asset they have enormous human capital," Carey said. He went on to say, "for example the Iraqi population is highly educated. They have lots of skills and it's a wasted intellectual asset that they are not able to work. There are doctors, lawyers, scientists and engineers rotting in Damascus and Amman," he said. He pointed out that two prior Secretary's of State where refugees and said refugees are entrepreneurs who start businesses and contribute positively to their communities.
Editor's Note: Charity Tooze is a scholar of international relations. She has been reporting on the Middle East and refugee issues for the past two years. Presently she is completing a multi-media project, Limbo, about displaced Iraqi civilians.