Ready for today's Beat 360°? Everyday we post a picture you provide the caption and our staff will join in too. Tune in tonight at 10pm to see if you are our favorite! Here is the 'Beat 360°' pic: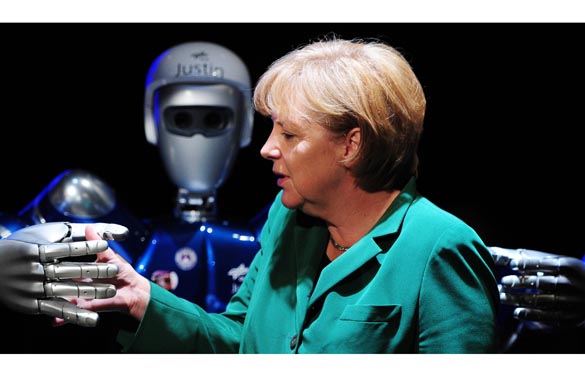 German Chancellor Angela Merkel jokes with 'SpaceJustin', a humanoid space robot, at the International Aerospace Exhibition (ILA) Schoenefeld airport in Berlin. AFP PHOTO / JOHANNES EISELE (Photo credit should read JOHANNES EISELE/AFP/Getty Images)
Have fun with it. We're looking forward to your captions! Make sure to include your name, city, state (or country) so we can post your comment.
Beat 360° Winners:
Staff:
Marshall Arbitman
"Germany's Prime Minister makes a record 17th appearance on Sprockets.
And now is the time we dance."
Viewer:
Christine from Upland, California
1
2
3
4
I declare a thumb war!
________________________________________________________________________________