Ready for today's Beat 360°? Everyday we post a picture you provide the caption and our staff will join in too. Tune in tonight at 10pm to see if you are our favorite! Here is the 'Beat 360°' pic: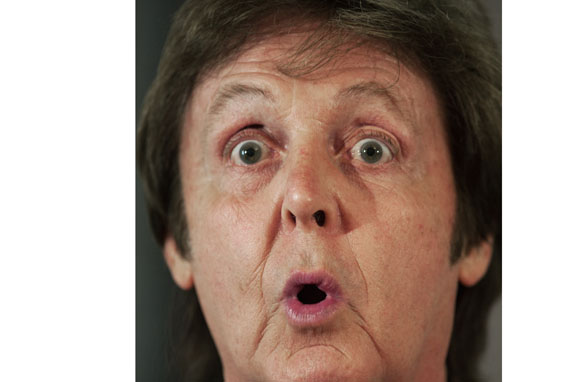 Musician Paul McCartney reacts during a news conference at the Library of Congress in Washington, DC as a reporter asks what it will be like to perform for US President Barack Obama. AFP PHOTO / Paul J. RICHARDS (Photo credit should read PAUL J. RICHARDS/AFP/Getty Images)
Have fun with it. We're looking forward to your captions! Make sure to include your name, city, state (or country) so we can post your comment.
Beat 360° Winners:
Staff:
Marshall Arbitman
"Sir Paul, recalling that it was Fergie who fixed him up with his ex-wife. Wondering if he can still stop payment on the check."
Viewer:
Silas from Boston
"Sir Paul McCartney reacts to the news that Tipper Gore is a free agent."
________________________________________________________________________________