Ready for today's Beat 360°? Everyday we post a picture you provide the caption and our staff will join in too. Tune in tonight at 10pm to see if you are our favorite! Here is the 'Beat 360°' pic: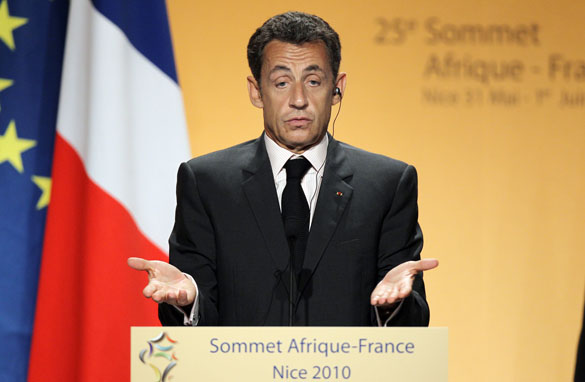 French President Nicolas Sarkozy gestures at a press conference during the 25th Africa-France summit on June 1, 2010 in Nice, southeastern France. AFP PHOTO VALERY HACHE (Photo credit should read VALERY HACHE/AFP/Getty Images)
Have fun with it. We're looking forward to your captions! Make sure to include your name, city, state (or country) so we can post your comment.
Beat 360° Winners:
Staff:
Kira Kleaveland
"Whaat? Whaat? I thought I could keep Tipper chipper better than Monsieur Gore!"
Viewer:
Derek from Monterey, California
"How do you say, 'glad we don't own Louisiana any more?'"
________________________________________________________________________________